Membership
Membership
The SC SHRM State Council serves the needs of all SHRM members and chapters in the state, including members of SHRM who've not yet joined a local SHRM chapter.
The purpose of local chapters is to:
Provide a local forum for your personal and professional development
Provide an opportunity to develop your leadership, managerial, public speaking and group decision-making skills
Provide a local networking arena
Provide a focus for legislative attention to local, state, and national human resource management issues.
Membership in a local SHRM chapter is separate and apart from membership in SHRM.
LOCAL SHRM CHAPTER MEMBER BENEFITS
Our local chapters provide many benefits and opportunities to enhance the human resources profession through personal and professional development. You can join several chapters if you want to, however, you can only designate one chapter as your home chapter. Many of our chapters provide: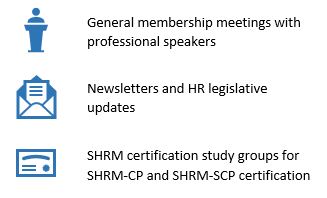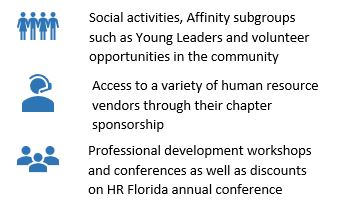 ---
HOW TO JOIN A CHAPTER
FIND THE LOCAL SHRM CHAPTER NEAREST YOU CLICK HERE
Each chapter will have information on how to join on their website.
Check out their Board of Directors. Most chapters will have a Membership Director who can assist you with any questions.
You can name a home chapter either by filling out a form on your local chapter's site, asking the Membership director for an affiliation form, or by contacting SHRM National and alerting them of your home chapter HERE or follow this link http://bit.ly/DesignateMyChapter
---
FOR CHAPTER MEMBERSHIP DIRECTORS
Resources for Growing your chapter
In addition to tools and information here, there are also a variety of resources available on the VLRC
Resources for Membership Engagement
We provide resources not only for recruiting new members, but for keeping current members engaged. In addition to programming, professional development resources and networking opportunities, SHRM members can participate in a variety of volunteer and growth opportunities through:
SHRM Foundation
Donate your time, talent or treasure to further the vision and mission of HR Indiana SHRM. Learn more about the SHRM Foundation Click HERE
Volunteer Opportunities
Volunteer to be a local chapter president, a speaker at a SHRM event or for the SHRM Foundation. Click HERE to learn more about SHRM volunteer opportunities.